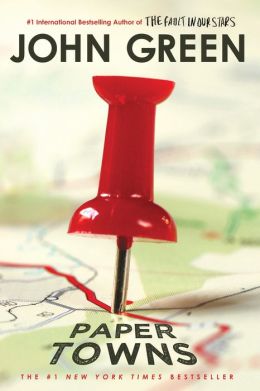 I finished John Green's Paper Towns this past week (I know, it's an older John Green and something I should've read by now). I enjoyed it and found it remarkable in the genre of young adult literature for the way it deconstructs one of the popular assumptions about this genre. Many YA lit scholars (and I've shared this with my own students) suggest that one of the defining characteristics of YA lit is its focus on plot and action, the way it often strips away "fluff" in service to a story.
This is not what I found in Paper Towns, although it has a strong and engaging plot that tracks our protagonist (Quentin) as he seeks to unravel the mysterious disappearance of his neighbor (and romantic interest) Margo Roth Spiegleman. But woven expertly and integrally into this storyline is a serious meditation on what it means to be an individual and how we perceive (and define) the people we interact with. Most surprisingly, Green engages these ideas through a serious exploration of Walt Whitman's Leaves of Grass, a title that is most assuredly not YA lit (and probably isn't appreciated by many teens who might–against their will, sadly–read the poem).
Many of the pages of the book are dedicated to Quentin's musings on the meanings of Whitman's poetry, the meanings that Margo found in it, and especially (towards the end of the book) reflections on how he shaped an image of Margo in his mind that may not, in fact, have been a reflection of the real Margo. The ending of the book might disappoint some who are looking for the kind of love story they think they can expect in a John Green book, but I found it immensely satisfying given the trajectory of the book. And I found it impressive (although not surprising, if you follow Green's YouTube series) that such meditative work finds its way into young adult literature. Green deservedly gets a lot of credit for popularizing YA lit (for teens and for adults, honestly), but he also deserves credit for raising the bar of literary quality in this work.
Update: Not sure how I missed this before, but here's a TEDx talk by John Green where he talks about the concept of paper towns (fake places on maps that cartographers would include in their maps to catch plagiarists) as well as some elaborated thoughts about the larger metaphor at work in this book: maps and cartography.
Check it out: