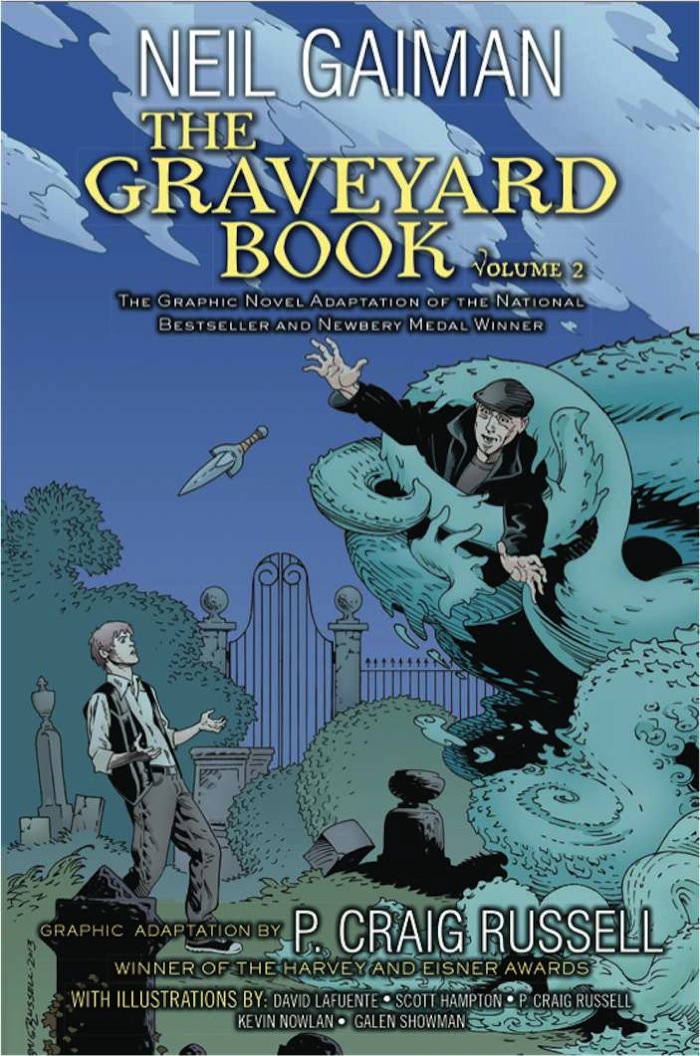 Neil Gaiman is a popular author across many genres and audiences, and some of his work for young adults is the best I've read. I found Coraline to be chillingly spooky, on par with some of the creepiest and most unsettling horror I've read for adults (I'll never forget that first encounter with the other mother and her glossy, black button eyes). And his Graveyard Book with its unassuming orphan child hero, Nobody Owens, was a delightfully original take on some fairy tale stories.
So I had high hopes for the graphic novel adaptations; this is a format that I've come to really enjoy personally. The artwork in all three adaptations (The Graveyard Book is divided into two volumes) is appealing and clean; I found the work in The Graveyard Book to be particularly imaginative (although the fact that the first volume is drawn by a variety of illustrators is a bit jarring at transitions from one section to another). It's interesting in this case to read these volumes because I've never before read graphic novel adaptations of pre-existing stories (except some Shakespeare and classical texts like The Odyssey, all of which have hewn pretty closely to the original story).
Sadly, I honestly felt like both adaptations lacked something from the original stories. The other mother in Coraline wasn't nearly as creepy or unsettling as Gaiman's prose portrayal, and I didn't feel as invested in Bod's story as I read it in graphic novel format. In the Coraline adaptation, I felt that the choices early in the story didn't set the necessary background for Coraline's dissatisfaction with her real parents; thus, the draw of the other mother and the ideal world she's created wasn't as frightening. In the Graveyard Book, I just didn't feel the tenderness of Bod's parents and the connections he formed with the hosts of the graveyard dead. It ended up lacking the detail and depth of the world Gaiman created in the original telling.
Which leaves me wondering if there are limits to the graphic novel format, or at least weaknesses to the format when compared to traditional forms of storytelling in prose. This isn't something I've considered with works like American Born Chinese or Maus or other striking examples of the format, but my reading of these adaptations has left me wondering. I suspect it's more a result of less-than-excellent choices made in the adaptations; perhaps a reader unfamiliar with the original texts would find these adaptations more satisfying. Either way, the experience has me excited to revisit American Born Chinese and pay more attention to the way Yang portrays characters and themes through the medium of the graphic novel; I suspect there's more to his work that I haven't yet noticed.