Purpose
The purpose of this assignment is to help you understand the underlying connection between grammar (specifically, the choices we make in speaking and writing) and the access to power those choices give us. By examining these assumptions, you can be more sensitive to different attitudes about our language.
Considerations
You have two options for this assignment: (1) You can choose and analyze an online grammar rant or (2) you can research a "dangerous word" as described by Keely in our course readings.
Grammar Rant Option
You'll first need to find a grammar rant. You can search the web using keywords (grammar and texting, proper grammar, proper usage, etc.) and browse the results. You can create a Google Alert to notify you of pages and articles related to those key words. Or you can browse newspaper sites for articles on grammar and usage.
A rant is a specific kind of writing about grammar. It rarely focuses on larger issues of writing (organization, creativity, quality of argument) but on minute stylistic features, word choices, or punctuation issues. There is usually a good deal of outrage expressed in a rant (as the name implies), and this outrage is often stronger the more obscure the error being discussed. Lists of do's and don'ts aren't usually rants, unless accompanied by similar attitudes and concerns as the model linked below. The rant you choose should be lengthy enough to stand up to some good scrutiny.
Analyze your chosen rant by annotating the rant in 6-8 places. These annotations should identify weak points or inconsistencies in the ranter's argument as well as the underlying assumptions in the author's assertions. You should also feel free to ask questions as part of your analysis and make inferences about the author's attitudes towards language. Click here for a model (PDF file) of this analysis, using a Dear Abby column from a few years ago.
Dangerous Words Option
For this option, you'll want to  choose a "dangerous" word: a derogatory slur or a word often used to put down or embarrass another person. Keely has plenty of examples in her article, although you can choose any word you like that fits this category. Don't feel the need to choose a word that's vile or personally hurtful; you can choose a less-charged word (like "nerd" or "dork") if you'd rather.
Once you've chosen a word, you'll want to follow a similar procedure to that undertaken by Keely's students and conduct some research on the word. A general Google search might provide some information, but you're going to need to provide some additional keywords–perhaps "history" or "usage." To supplement a general search, you could use the Oxford English Dictionary (full access available from on-campus computers) to see some of the history of this word. A search for the word in the BYU COCA (Corpus of Contemporary American English) will help you see how the word's been used in popular print sources over the past few decades. Other sources of information that could be helpful include Google's ngram viewer (which will show frequencies in the books Google has digitized) or the Urban Dictionary (an online source that provides user-supplied definitions of slang words). Finally, for some words the Online Etymology Dictionary may provide some helpful information about the origins of the word you've chosen. I've provided links to these resources below.
Considering the sources you've explored, make some notes about your observations (a bulleted list is a fine format for these notes). Make note of anything surprising you come across and any information you think might be new or unfamiliar to others. Most importantly, make some inferences about how and why this word has come to hold the power that it does.
Grading
These are informal assignments and will be graded on completion and effort alone. I expect you to come prepared to class to discuss your findings.
Helpful Links
If you're struggling to find a grammar rant, you might look to these links here:
These links will help you find some information about the dangerous word you've chosen: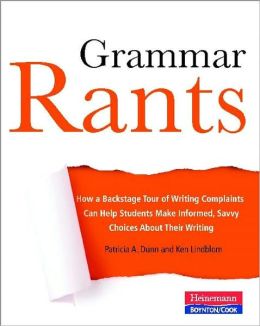 The grammar rant assignment is modeled after assignments described in a wonderful book by Patricia Dunn and Ken Lindblom. Check out the book on Amazon.com.